Tips & Best Practices
Sending online surveys by e-mail: What you should look out for here
With these tips you will definitely get more feedback when you send your survey by email
Sending a survey by email: Tips and tricks for more feedback
There are many ways to publish or distribute a poll. You can print out the questionnaire and distribute it, generate a QR code with a reference to the survey link and print it on flyers and posters, or share your online survey on social networks, for example via Twitter, Facebook, LinkedIn or XING. Another variant is probably the most comfortable: Sending the survey link via E-Mail! And that will bring you the greatest response if you follow a few rules and tips from our survey specialists!
Submit your surveye-Mails personalized!
QuestionPro allows you to send personalized and automated surveys using an integrated serial mail tool. This means that you can upload your contact details via batch upload and then send the survey link as a serial email. And the whole thing with a very personal approach!
Dear Mrs. Wiegand,
to improve our customer service, we would like to invite you to take part in our satisfaction survey ...
As a marketing director of the Service GmbH do you have…
... with the best regards Dusseldorf!
A personalized one E-Mail brings you far more attention than a generalized one E-Mail without a personal address, from which it can be seen or read at first glance that it is a mass mailing. Who likes to be part of an undefined crowd? Everyone feels good and valued when spoken to personally!
Choose a meaningful,
concise and concise subject
With the personalization of your E-Mail when you send out your online survey, you have almost won! The attention is there. Now do your potential customer survey. And you probably know yourself: the attention span when looking through what appears to be hundreds E-Mails is not very big. There it happens that it is less relevant E-Mails just won't open or go to the trash So choose a good and meaningful subject.
Less good examples (exaggerated):
Online survey for you (That sounds like pointless work that E-Mail will go to the trash without being read)
Answer our questions (Why? Nope!)
Win a tablet PC (This is honorable if you want to reward your respondents, but it reads like SPAM)
We want to get better for you! (Yes, go ahead, but without me)
Better examples:
Your competence is very much in demand with us! (Well, who doesn't want to be considered competent)
We value your opinion very much, Ms. Wiegand (that is very appreciative)
Customer survey: Your opinion counts for us! (A little more direct)
Your order from ... (If your customer survey relates to a specific order, please put it in the subject line in any case)
Your imagination is required here! Of course, it is also crucial how well your potential survey participants know you and how you relate to them.
Pay attention to your sender ID!
It's actually very simple: your personal sender ID is normally displayed when you send an email. But with tools that you use to create serial e-mails to send, it can be different. Because if a potential survey participant cannot deduce from the sender ID who this mail is from, or an unknown domain appears there, then the e-mail may end up in the trash without being read. Or even in SPAM!
Resources rmations that the E-Mail-Body
should absolutely contain
The E-Mail itself should contain some essential resource information about the online survey itself and the procedure:
Who you are and why you selected your addressee as a participant in the online survey
What insights you would like to gain with the online survey
Approximately how long it will take to complete the online survey
Whether you are giving a reward or incentives as a thank you for taking part in the online survey
FREE BEST PRACTICE WEBINAR: CREATE, DISTRIBUTE AND EVALUATE SURVEYS WITH QUESTIONPRO
---
Plan the sending of email invitations to take part in an online survey exactly in advance
QuestionPro its customers the possibility of the greatest possible automation of survey applications. For this purpose, we have integrated features and functions into the system that make the work of creating, distributing and evaluating online surveys much easier.
There are survey applications in which the timing of the sending of online surveys is of great importance. QuestionPro therefore has a so-called scheduler in its web-based survey software for the serial dispatch of online surveys via E-Mail integrated. With this time planner you are able to plan the sending of online surveys at a certain date and at an exact time in advance. This means that you do not have to log into the system, for example if you want to send the online survey after business hours.
It's that easy: Schedule email invitations for online surveys
Open the online survey that you would like to send to potential survey participants at a time in advance and then navigate to → Send → E-Mail. Now enter the recipients or select one E-Mail-List you uploaded previously. Then click on Send Later. You can find the complete description here.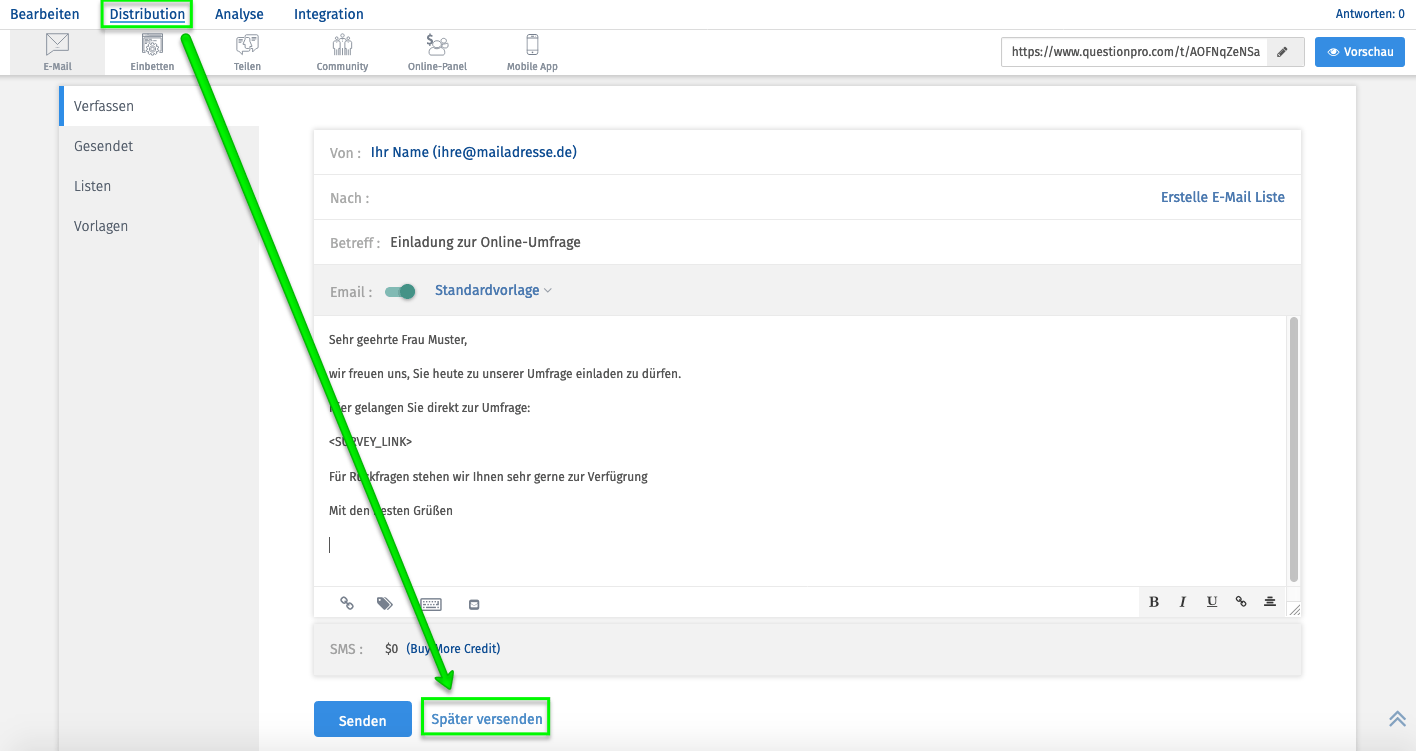 ---
Now enter the date and time in the fields provided and then click on Schedule invitation. That's it.

Make it easy for your survey participants: Poll directly in the E-Mail- Include the body!
More feedback: Embed the survey in mail
The survey software QuestionPro offers a very exciting function that is very popular with our customers and enables you to answer the first question in an online survey straight into a E-Mail to embedso that respondents can access this directly from the E-Mail can answer without having to click on a link. Survey participants will see the first question of your survey right in front of them as soon as the E-Mail is opened or already in the preview window. This raises awareness and thus the willingness to take part in the survey, because it does not require a click on an external and unknown link. If your respondents then ask the first question from the E-Mail answer out, these are automatically forwarded to the online questionnaire, which opens in a separate browser window. This new feature of embedding online surveys in E-Mails increases the response rate and thus the feedback.
Smart and effective solution for small surveys!
This function offers a very special advantage for surveys that already consist of just a single question, such as the request for feedback as part of the Net Promoter Score (would you recommend us?) Or a satisfaction question after a support call (could we answer your request clarify to your satisfaction?). In the last example, a negative answer could then automatically lead to a more detailed questionnaire by means of branching logic. If the answer is positive, the case would then be dealt with quickly for everyone, without leaving the E-Mail out a link had to be clicked. That increases the feedback significantly!
Embed survey in a E-Mail:
It's that easy
First of all, create your questionnaire with the WYGIWYS questionnaire designer. If you do not yet have a user account, you can register your free survey account here.
When you have created your questionnaire, select the menu item → DISTRIBUTION as marked in the following screenshot above. Then activate below the E-MailInput field the envelope symbol (1). The code for embedding the survey in the E-Mail is then inserted automatically. Then add your desired message text and the recipients of the survey and then activate the check box (2).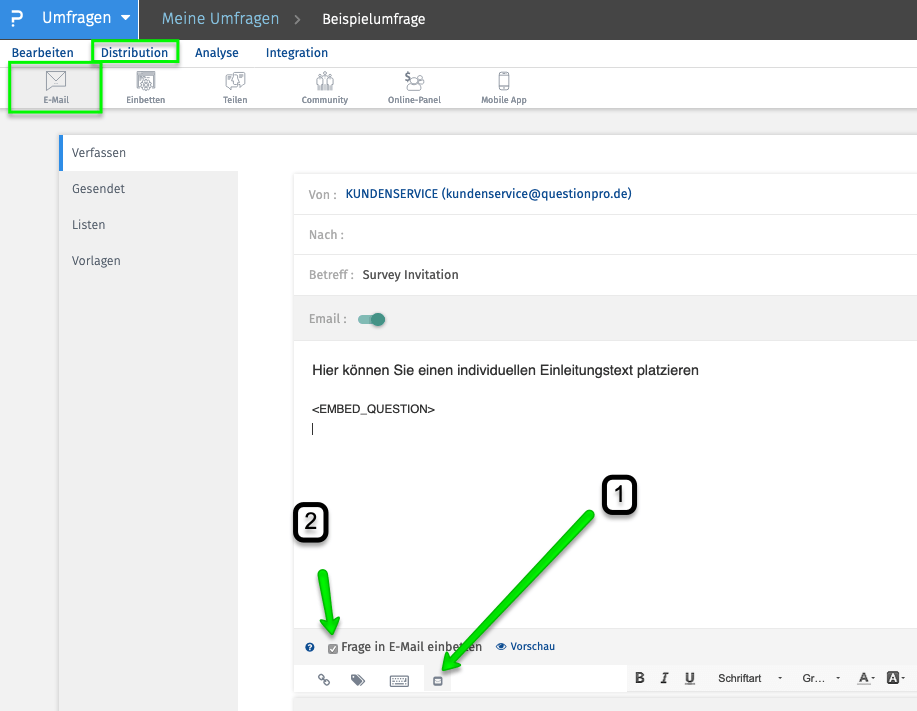 ---
And so it looks then in the E-Mail File
Of course, the design can be individually adapted.

---
1:1 Live Online Demo:


Survey Software QuestionPro
You want more about QuestionPro Experienced? We would be happy to show you the features and question types of the survey software in a personal 1:1 live online demo QuestionPro. Make an individual appointment now.
---
Create surveys for free with the professional and web-based survey software QuestionPro
You have any questions or suggestions? We look forward to your inquiry! Simply use the contact form. Register now for free and create your first online survey with us QuestionPro.
WE GIVE YOU 1000 FREE FEEDBACKS PER SURVEY. CREATE AS MANY SURVEYS AS YOU LIKE!